People are all CRYING about the $150,000 (read: One Hundred and Fifty THOUSAND Dollars) that was reportedly spent by the Republican National Committee to update Sarah Palin's wardrobe.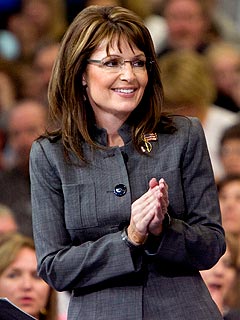 Well, it's clear to The Kid that McCain knows what's up and that he MUST be subscribed to DatingGenius! 😀
Exactly four months ago, I wrote "How To Dress Your Girlfriend". Had I known what was going on behind the scenes, I would have called it "How To Dress Your Running Mate", and I would have been on the CNN / Charlie Rose circuit right now.
So, Fellaz… I'm going to let you in on what Presidential hopefuls already know. This is CRITICAL information if you hope to be respected by your male peers and climb social or business ladders! Write this down! Tape it to your refrigerator if you have to! Ready? Here it comes…….
Do.NOT.Let.Your.Girl.Look.Like.A.Bum.
This is INSANELY IMPORTANT, dudes. DO not let your girl look like a bum. Spend money on HER gear before you spend on your own. Do whatever you have to do to hook HER up before hooking up yourself. You need a haircut, and she needs a hairstyle?… SHE gets it. She put on that extra 5 pounds, and doesn't fit in clothes that used to look HAWT on her?… Buy. Her. Some. More! 😀 Your social status is COMPLETELY dependent upon this. If a guy's not doing well, the FIRST indicator is that his girl's looks start to fall off. Don't let this happen to YOU! 😀
Now, McCain *could* have continued to let her dress like "whatever". Click here for a gallery of Sarah Palin in her normal gear. This, however, would have been an egregious mishandling of Eye Candy.
It doesn't matter how cute your girl was or that she was a cheerleader or beauty pageant contestant or newscaster back in the day. If you're tryinna get in the club, it matters what your girl looks like RIGHT.NOW. 😀 "Cute" isn't going to get you in the door. Your chick has to look BANGIN'! so that when you walk up with her, the doormen know you're "bout-it bout-it" and the velvet rope slides to the side without you having to say ANYTHING to them. Guys can and WILL judge you by how your chick looks, so keep her up to par, even if you have to spend a hunnid-fitty Gs of the RNC's money! 😀
Now THAT'S Pimpin'! 😀
Now, in this particular case, it was extra-important for McCain to shell out the ducats. In most cases, a chick's entire job description when you go out in public is "Look Good". Period. You normally don't have to worry about her being actually involved in the conversation you're having with your boys, much less someone interviewing her or her actually having to DEBATE anyone on public television. Under these special circumstances, you want the takeaway for people to be "DAMN, She looked GOOD, didn't she? 😀 " as opposed to actually paying attention to what she said. I mean, if you were going to go the "pay attention to what she said" route, you would have selected a more qualified and less attractive female from the giddyap, right? 😀
Now… As I was discussing "How To Dress Your Girlfriend" with my friend Michelle's friend Jennifer, she crinkled up her nose and goes "Why don't you dress YOURSELF, *FIRST*?" hahahaha 😀 Now, this is a legitimate question. The answer is:
I don't have to.
It's not the guy's job to look good. It's the guy's job to make sure HIS GIRL looks good. You think I'm kidding? Look around? How many guys do you see get out of Porches looking bummy? They know they don't have to dress up, because chicks (of a certain calibre) are going to sweat their car. Look at the "couples" you see walking around town. How many times have you seen bummy dudes with chicks "dressed to the nines"? Uh-huh. It is NOT a guy's JOB to look good.
Even if it was, guys in general have no particular shape. All you have to do to make a guy "look good" is put a suit on him that hides his pot belly. Done deal. *yawn*. So you're not going to hear about a hunnid-fitty Gs spent on Obama's gear or McCain's gear. Dressing women is like touching up art. You can't just throw *anything* on them, because you might be SUBTRACTING from their natural beauty instead of ADDING to it.
So this is why McCain did the right thing by hookin' a sistahs wardrobe UP! 😀 First of all, McCain already HAS a suit…

So, you're not going to be able to dress him up any more than that. Spend the "hook a brotha UP!" budget on the person you'd RATHER have people looking at… Sarah Palin.
Now… Let's say they had gone the other route. Let's say that the RNC spent a hunnid-fitty Gs on McCAIN'S GEAR and left Palin dressing "regular":
That would have been an INCREDIBLE error, because you're not going to make McCain look any better, regardless of how much money you spend. With Palin, however, the sky's the limit! 😀
People are already speculating about her career path in case Obama becomes the President of the United States of America. They're thinking she could have her own talk show. They have all this celebrity stuff planned for her. This is because the RNC did what they had to do and upped the ducats to make her look PROPPAH for the cameras! Nice work! 😀
So that's the deal, fellaz… "As goes your girl… There goes your social life". You can look as FLY as you want, show up to the club with a bummy chick and NOT get in. OTOH, you can spend those ducats, make sure your girl's looking HAWT, and people will see you as a man of respect who handles his business and keeps his woman satisfied.
We'll find out on November 4, 2008 whether it's enough to get you elected PRESIDENT!!! 😀
~Bill
DatingGenius Category: billcammack.com/category/datinggenius
Subscribe to DG!: feeds.feedburner.com/BillCammackDatingGenius