Now… We already went over this in "How to dress your girlfriend", but we need to revisit the topic, thanks to this Jessica Simpson situation.

Ladies… Do yourselves a favor. This is 2009 and we're living the Social Media life now, so you never know when "Photo Ops" are gonna come up. Make sure that juuuuuust in case, you're at the top of your game when you step out the door.
Obviously, this is even MORE IMPORTANT if you're a celebrity and you're going to be on stage in front of people with cameras. It's even MORE important if you used to be FOYINE, and now you're not. We'll get to that later. 🙂
Recently, there's been a lot of talk about Jessica Simpson, how her body used to look and how it looks right now. Clearly, she's put on a GANG of weight, but she could have avoided most of the tabloid chatter if she had dressed properly for her new shape.
Now, all of y'all have been to the ghetto at some point, or at least you've seen one of the millions of ghetto movies that Hollywood likes to make, so you know that there are lots of chicks out there with…. more bounce to the ounce… that accessorize and do what they can to look as fly as possible. This is because they know what size they are and they know what to do with that.
Play It Where It Lies
OTOH, there are tons lots of chicks that aren't aware that they look differently now than when they were slim and they try to dress the same way they used to. No Good. The only reason that stuff worked for you *before* was that guys would have liked to see you with ANY clothes on or with NO clothes on. At this point in time, it's critical to "leave something (or, a lot) to the imagination".

The issue for curvier women is control. What y'all have to do is coax stuff into locations where they're appealing to the eye, instead of doing like the Hawaiians and "hanging loose". This means, DO NOT come outside in non-fitting jeans that make your ass look long and make your thighs look amorphous. Don't Do It.
Second… DO NOT try to get over with some stomach-controlling wide-ass belt, ESPECIALLY one that calls the eye's attention to it because it's some gaudy leopard pattern.
Third, if you're GOING to try the suck-my-stomach-in-with-a-belt trick, WEAR A JACKET OVER IT! Leave as much to the imagination as possible.
The problem with not wearing a jacket is that your lower body BALLOONS OUT from under the belt to where it's naturally distributed. Actually, you would have been better off leaving the belt out entirely and sticking with your natural gut, because it would have been a smoother transition vertically down your body instead of looking like a sack of potatoes.
Control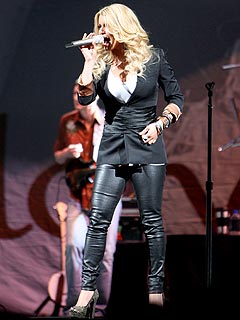 THIS is the right way to exit the crib, ladies! 😀
Do you see how much CONTROL Jessica has? NOT denim jeans, but leather pants, which are cut to a particular shape. She's still rocking the Gladiator stomach-sucking belt, except THIS TIME, it's BLACK… The Same Color as her jacket, instead of some conflicting, gaudy "Look At Me!!! I'm Trying To Get Over!!!" colors.
The way her jacket and untucked shirt fall, they cover up the "sack of potatoes" effect and leave enough to the imagination to get over. Also, because of the way her leather pants fit her, you can see she's rockin' dope kicks instead of how those denim bell-bottoms went all the way to the floor like she was trying to hide something.
Now… Jessica STILL would have taken heat for her weight in this gear, but it would have been way less severe, because she's doing what she can do with her current size. There's nothing wrong with her current size, but it calls for a completely different style of dressing. (did somebody say "dressing"?… hahaha nevermind :p )

Now… Assuming your man has TASTE in women and actually KNOWS when you look good and when you don't, he can help you out here as well. This only works if your man is willing to MAN UP and tell you the truth. "Nah. You look busted. That belt's making you look like you just ate dinner". So.. Yes, Fellaz… Y'all are gonna have to help the ladies reach their potential by keepin' it REAL with them when they're looking good and when they're not.
Anyway… Another problem here is that Jessica used to be FOYINE!!! 😀 Mind you, beauty's in the eye of the beholder, so I'm sure there were lots of guys that considered her too skinny before and NOW they want her to "drop it like it's hot" at the club. If she had burst on the scene (no pun intended) at this weight, people would have been like "Oh, There goes Jessica", like nothing was wrong. At this point, people are treating her like she ate the Everlasting Gobstopper. She's actually STILL way slimmer than a lot of American females, but she's being penalized compared to her former body, which supposedly was costing her two hours per day of workout time.
So.. Yes, Ladies… CONTROL is the issue! 😀 If not via your caloric intake and workout regimen, then by properly selected & accessorized gear. Prevention or Cure. Of course, a lot of women are going to ask why they SHOULD stay in shape at all, but that's an entirely different discussion.
~Bill
DatingGenius Category: billcammack.com/category/datinggenius
Subscribe to DG!: feeds.feedburner.com/BillCammackDatingGenius