Gina Carano is going to fight Cristiane "Cyborg" Santos this Saturday, August 15th, 2009 for the Strikeforce Women's Championship.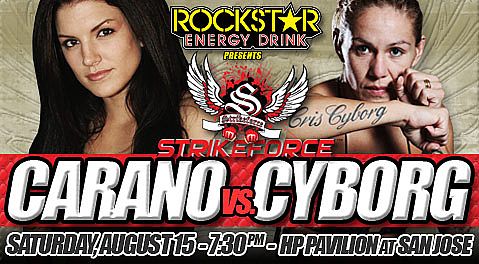 Now, I'm not much into making predictions on blogs, but I thought I'd throw in my two cents here ahead of time so I can compare it to what happens during the actual fight.
Unfortunately… (or, fortunately, for some of us :D), American media, and probably media everywhere else in the world puts a lot of value on physical, visual attractiveness. I think that's a good idea when it comes to commercials and modeling, but a VERY BAD IDEA when it comes to fighting.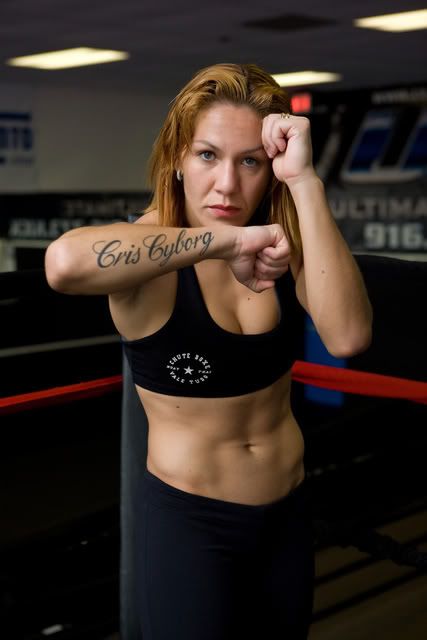 Every time I hear about Gina, they're talking about how cute she is and how she's "The Face of the Sport", yadda yadda…
Every time I hear about Cris, they're talking about how she's a savage and has been mauling every chick in her path.
Unfortunately, the way the fight game works, as I've watched through Boxing and now Mixed Martial Arts (MMA), it's a ladder-based system where you make sure the best avoid the best until you can make a superfight and make a lot of good money from it. Because of this, I haven't been able to see Carano & Santos go up against the same calibre fighters in order to attempt to accurately judge what should happen when they meet on Saturday.
Of course, this issue is exacerbated by the fact that there just aren't very many women that are allowed to fight on television. As far as I know, there are ZERO women in the UFC, ZERO women in the WEC (which appears to be the minor leagues of the UFC?), I saw some rarely when Bodog used to have a show, and you see women fight now and then in Strikeforce, where this fight is going to take place.
Therefore… Basically due to a lack of female fight promotion, this is about to decide the female MMA WORLD CHAMPIONSHIP, very much in the same way that the World Football Champions are decided by the NFL, because there's no viable competition anywhere else in the world.
The other question is "Where do they go from here?". What can Strikeforce do to top themselves after this? I think they'd better hope that the fight's really competitive so that people clamor for a rematch and they can drag this "rivalry" out for a couple of years.
Hopefully, what's going to happen is that more people will see female fights as entertaining and request more women in the fighting organizations. Any decisions made are going to depend on how much money there is to make from female fights, so we'll see how things turn out.
As far as my prediction for Saturday……. I'm rooting for Carano, because I've been following her longer.. Except I've been fully impressed with the ass-whippings that Cyborg Santos has been handing out to any chick that would like to step up and receive one. 😀 I haven't been able to see them fight the same quality women, so I don't have a good handle on this, but it appears to me that Cris is just too strong/brutal for Gina. I've seen Gina battle with other chicks. I haven't seen Cris in trouble AT. ALL… Not that I've seen all of her fights.
I would love to see Gina win an unanimous decision over Cris, but realistically, my prediction is referee stoppage in the 4th round, declaring Cris Cyborg the winner, TKO via strikes.
Another issue here, though is that this fight is going to be five 5-minute rounds. For some odd reason, they've been forcing women to fight 3-minute rounds, which is obviously going to make this fight tougher to predict as far as stamina. Non-title fights are 3 rounds, meaning that men get to fight 15 minutes, while women only have 9 minutes to make it happen.
The obvious problem here is that when you decide to make a championship fight where women are going to fight five 5's.. They now have to last for 25 minutes, or almost THREE TIMES AS LONG as their normal fights (3×9 being 27 minutes). The guys in the same situation don't even have to fight TWICE as long (15×2 being 30 minutes), so this is really pretty retarded and they need to make it so that women are fighting 3x5s in their regular fights just like the men.
So this could throw a major wrench in my prediction, depending on which one of the ladies shows up with better cardio on Saturday. If Cyborg gasses out, I'm changing my prediction to Carano by tapout due to Rear Naked Choke late in the 4th round! 😀
Either way, I'm about to enjoy my ass off! 😀
Pass The Popcorn!!! 😀
~Bill | @BillCammack