So they finally released the movie "Twilight" on cable, so I was able to check it out and see what all the hubbub was about.

Vampire shows have been all the rage recently. HBO has a series called True Blood that's really popular and pretty much anything dealing with vampires is going to get run these days.
I've been wondering for quite a while why chicks have been falling all over themselves over "Twilight". I figured a vampire movie is a vampire movie is a vampire movie. *yawn*
Having watched it now, I get it completely. The screenplay was very well written to fit the brainwashing of American females if not females all over the world.
I'm not saying the movie was interesting or good or unpredictable, haha.. I'm just saying that I understand why it's a phenomenon because it hits the points that girls are trained to look for when they fantasize about being involved in a romantic relationship with a guy.

*** SPOILER ALERT *** If you still haven't seen this movie, which was released over a year ago or you happen to be Keith Bevans, do not read the rest of this post! 😀
Bella
Bella is the main character. The movie's seen through her eyes. This is automatically going to be of interest to females, because most films are seen through guys' eyes.
She doesn't live in a big city. She transfers to a new school, which means she starts off with ZERO props. She has no friends. She's a loner.
She's cute enough for the sticks, but she'd be nothing to write home about in New York City. This is also endearing to females, because most of them fit into this category.
You don't want your protagonist to be "too attractive" or else the audience will disconnect. Of course Brad Pitt dumped Jennifer Anniston for Angelina Jolie. That's what's supposed to happen, because Angelina > Jennifer. You want the audience to feel like they're immersed in a story that could actually happen to THEM in THEIR lives.
So Bella's set up as a character that's worthy of love but just doesn't have any. Her parents are separated. Her father lives alone. Her mother has a new man and enjoys traveling with him. Basically, Bella has nothing at all in her life, emotionally.
Edward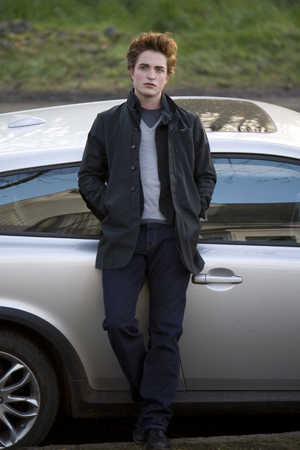 Edward is seen as a "catch" in the town Bella moves to. He's one of the elite, although the movie doesn't establish WHY he's considered elite. I can only assume it's because they imply that he's physically attractive and mentally a renegade.
I grew up with "elite" people in my elementary school. I understand the draw, even though "Twilight" skipped over the character development explaining these people.
When I was 13 years old, I knew other 13-year-olds that got $150 a week in "allowance" (The money your parents give you to live and have fun on for no particular reason). At the time, my allowance was $20/week and a lot of my friends (who had JOBS by the time they were 13 or just stayed broke) considered me rich because of that.
I knew 13-year-old "elites" that would throw wild parties and raid their parents' liquor cabinets and be the talk of the school, come Monday. I also knew 16-year-old elite females that dropped out of school to have kids, most likely due to some of those same parties.
So I understand the concept of "the table of cool kids" and how fascinating they are, just because they're living lives that the rest of us aren't living. One thing the movie never addresses is that Edward doesn't age past 17, even though he became a vampire in ~1918, and nobody seems to notice.
So Edward seems to be rich, cool, has his own car, his parents pull him out of school whenever it's a really nice day and the faculty never complains (= his family has juice), so it would appear that he could choose whatever female(s) he wants and they'd be glad to get down with the program.
Perfect Dynamic
This sets up the perfect dynamic between Edward & Bella that she's not supposed to be able to pull a guy as good as him and he's not supposed to settle for a girl as mediocre as she is.
This is the format for the American female dream. Self-Validation through being selected by an elite male for her unique qualities. Without the male being elite, it's not worth anything because "who cares?". If the female had been stunning and all guys were chasing her, it wouldn't have been worth anything because the average American female wouldn't feel like the film was about *her*. This is a modern reenactment of John Hughes movies about the mechanic chick getting the guy that's chasing beauty queens, except instead of it happening within the last five seconds of the movie before the credits, it happens towards the beginning of the film.
The basis, as usual, is the concept of "Love". The way Love is sold to women is that it's some supernatural occurrence that has no realistic explanation. The more of an explanation there is for it, the less valid it is. This is why you don't get any credit for telling a gal she has a nice ass. She attributes your statement to LUST, which is low-rated when compared to LOVE, which is something you're supposed to feel….. um… because you feel it and you can't explain it. Lusting after her doesn't make her feel unique, because you like a lot of chicks' asses. If you're "In love with her", that means that she's the only one that inspires you to feel a certain way and then it's Game On!
Unfortunately for my 'discovery' of this film, I was aware ahead of time that Edward was a vampire and Bella was Human. As an editor, I'm going to be aware of this fact the entire time, because I would have been in charge of being aware of character development & continuity if I had edited this film myself. For this reason, when Bella walks into the class and passes in front of the fan and Edward covers his nose, I immediately considered that he was avoiding her because he considered her a tasty morsel, not because he was repulsed by her, as Bella assumed.
Natually, this gimmick was revisited during the baseball game scene when Edward tells Bella to put her hair down and then the breeze blows through it, sending her Human scent to James, the hunter vampire. This was another plot flaw, BTW, because the vampire female on Edward's team had said she could smell Bella from across the field, yet James was standing right in front of her and didn't detect her as Human until the wind blew past her in his direction.
American Dream
I realized how well this screenplay was written and why the phenomenon has become so huge during the car scene after Edward rescues Bella from a pending gangbang and is driving her away from the scene. Bella and Edward reach for the radio at the same time, and Bella goes "Your hand is so cold! :O". This was my "AHA!" moment because this scene occurred maybe halfway through the entire movie. Edward had already saved her life from getting crushed by a van, hung out with her lots of times and now arrived out of nowhere to save her from four guys that were planning to tag up, and she had NEVER. TOUCHED. HIS. SKIN. BEFORE!!! O_o
This, my friends, is the American female dream… Something For Nothing. This guy was hanging out with her, courting her and protecting her and he had never even held her hand before. Never kissed her before. Never ****** her before. Nothing. There's no explanation why he's compelled to do things for her, which validates her as an unique female… a CUAO. From then on, I watched the physical interaction (or lack thereof) between Edward & Bella and realized how masterfully the sexual tension was built into this book which was adapted into a screenplay.
Kool-Aid
For some reason, Edward's crew of vampires has sworn off eating people, although it's natural to them. When Edward first smells Bella, he's like "LUNCHTIME!!! :D" but he fights off his natural urges and disappears from school for a few days until he calms down. Meanwhile, Bella's been experiencing some kind of inexplicable attraction to Edward which is of course attributed to "love". Edward, then, for no apparent reason, saves Bella's life, making her even more enthralled by the concept of being with him. When she finds out he's a vampire, she declares that she doesn't care and that she's not afraid of him. Logically, she's willing to risk her life to be with him being that she would have been dead already if he hadn't saved her from being crushed, however, of course, this is utilized as another demonstration of how deep her LOVE is for Edward.
The real hook to this movie is the fact that Edward can't physically interact with Bella for fear of losing control and killing her. He decides to make out with her one time and has to retreat from that situation. This is like Female Final Fantasy.. that a guy wants them so badly that it hurts, but at the same time, he's not willing to pull the trigger. Brilliant! 😀 BRAVO!!! 😀 Excellent Writing! 😀 I wish I would have thought up "Vampires that restrain themselves from eating Humans" myself.
Edward fights for and protects Bella, declaring her his entire life, and he hasn't even hit it yet. What girl isn't gonna drop her drawers for *THAT*? 😀 He goes against his family, goes against the entire town, goes against regular vampires, faces off against wolves, *AND* even goes against his own natural urges to KILL BELLA because he's in love with her.
On top of all that, he can read EVERYONE'S mind, except for hers. The new-girl outcast loner is SO unique and important! Of course chicks are gonna drink the Kool-Aid straight with no chaser, wipe their lips and ask you to pass them some more! 😀
Be Edward
The obvious moral of this story for the fellaz is to BE EDWARD!!! 😀
Some gals you can pull by telling them what you WILL do for them. Others, you can pull by telling them what you WON'T do. 😉 Be the Alpha. Make her feel unique. Tell her what you want from her…….. and then tell her why you can't or won't pull the trigger. Sweetness! hehe Leave her wondering how it WOULD HAVE BEEN if she had hooked up with you.
A lot of chicks won't give it up simply because they know you want it. It's this weirdo mentality where they like to make themselves feel special or perhaps powerful by denying or defying you. I know you know what I'm talking about.. Everything's going in the right direction, and all of a sudden, they're backing away from you or they start playing games. The counter to this dumb way of being is to tell them what you're NOT going to do so they attempt to defy you by making you do it.
You see this throughout the movie. Edward tells Bella he's a killer, her response is that she's not afraid of him. Edward seems to be repulsed by her when he has to sit next to her in class, she wants to confront him about that. Edward tells her he's not going to tell her about himself, she insists. Edward tells her he's not going to turn her into a vampire, she tells him she wants to live with him forever.
So.. If nothing in your usual repertoire's working, flip the script. Be That Guy. Make her the star of your movie. Break out your "Something for Nothing" game. Let her know that you're her American Dream.. just don't give it to her… Just let the tension build and see what happens 😉