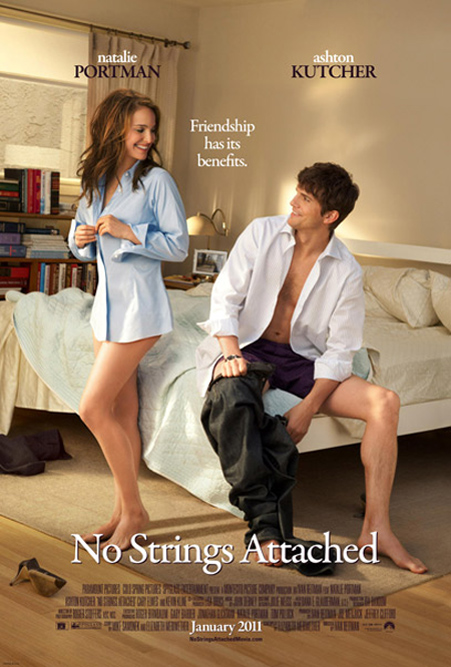 The other night, I had a fascinating conversation about what "Friends With Benefits" (FWB) means.
FWB is an umbrella term that covers more than one situation.
The "Benefits" part is the same, regardless… Sex, Hooking Up, Physical Intimacy, whatever you like to call it.
The "Friends" part is what's really in question.
If you don't understand what someone means when they call you "Friend", there's no way that you can properly comprehend or mentally process the full scope of FWB.
Just Friends
According to Webster's, a friend is "One attached to another by affection or esteem".
Lots of people are friends with each other. They go bowling together, they go out to eat, they discuss dating concepts…
This is not what women mean when they say "Just Friends". First of all, the word "Just" implies that being friends is an inferior state to something else. You will notice that this term is usually applied when they are accused of having sex with some guy. What do they always say? o_O
"Oh.. No.. We're just friends."
That doesn't mean she goes bowling with dude. All she's doing is denying sexual activity with him. She may or may not actually be hooking up with him. Just because she calls him a "friend" doesn't mean anything at all. Lots of chicks are giving it up and claiming that they're "friends" with the guy they're boning.
Dueling Parasites
This is usually done for two reasons. The first one is that their private, personal or sexual lives are none of your business. Butt out. Kick rocks. Take a long walk on a short plank… The second reason is that thanks to the double-standard, women are low-rated if they have sex with a dude before blackmailing him into an exclusive relationship.
So long as physical interaction is sanctioned by her having a title, such as wife or girlfriend, she's free to admit that she's hooking up with a dude without feeling poorly about herself because she thinks other people are 'judging' her (which is dumb to begin with because everybody judges everybody, so get over it). Outside of that, the dude is seen as not buying the cow because he's getting the milk for free. This way of viewing the world is unfortunate, but remains a fact of life because the double-standard is so well-entrenched in patriarchal societies.
So, the "Friends" part in "Just Friends" or "Friends With Benefits" doesn't necessarily mean that either one of them is attached to the other by affection or esteem.
Each of them has something the other one wants. A lot of relationships are dually parasitic and have nothing to do with friendship at all. I'm not talking about just FWB, but 'actual' relationships as well. Lots of "couples" are together because each one is providing something to the other one. As soon as that bartering relationship breaks down, they never speak to each other ever again in life.
The example I gave the other night was that our waitress was cute and had a KILLER body = "She Could Get It", but if I had kicked it to her (which would have been unethical, hitting on someone that's relying on you and your party for a tip at the end of the evening) and we ended up messing around, that wouldn't make us friends… AT ALL.
The way people become friends is by getting to know each other and eventually appreciating each other for the things they like about each other and tolerating (or not, haha) the things they dislike about each other.
Hooking up doesn't make people like each other… I mean, it CAN, because of sharing good times together, doing things for each other, and biological factors, like oxytocin, but lots of times, it's just business.. recreation.. something to do, and no rapport is being built in one direction or both directions. This becomes EXTREMELY OBVIOUS when the two people stop having sex and then there's no friendship left between them. o_O
Doesn't anyone find that odd?.. When people swear up and down that they mean so much to each other and their love this and that and they care about each other and they're friends and then as soon as they stop being physical with each other or start dating someone else, they act like the other person never existed in life?
Sorry.. That's not friendship.
Friends (With Benefits)
There are lots of cases where people who are actually friends are affectionate towards each other, hook up with each other, and generally enjoy each other's company to the fullest extent.
This is what people usually think of when someone says FWB.
In fact, FWB should be the natural state of affairs between people that are physically attracted to each other.
What could be better than that? 😀 You actually like, care about, or perhaps even love the other person, AND you're also turned on by them…
Unfortunately, women have been trained to attempt to secure concessions from men in return for what the women consider to be sexual favors. In fact, the value of the interaction should be MUTUAL enjoyment and MUTUAL pleasure, so neither side's supposed to owe the other side anything other than a good time.
This is why women have the nerve to say things like "JUST Friends", as if being friends is a lower-level format of relationship than one with a girlfriend or wife title attached to it. Eventually, y'all will figure out that boyfriends arrive and disappear and your ACTUAL FRIENDS remain in the pocket, indefinitely.
You'll find out who really cares about you when you become useless to them.
When you're not givin' it up anymore. When you gain that 15 lbs because you sprained your ankle and couldn't run in the gym for a couple of months. When you get a new boyfriend and act like he's the center of your universe, although you've known him for a month and you've known your friend for years… You'll find out what time it is when he gets enough of what he wanted or he decides to get it from someone else or that you're no longer worth the hassle of dealing with your caustic personality just to get to the good part.
When it's Friends (With Benefits), it's on when it's on, and it's not on when it's not on. The hooking up doesn't have any bearing on the friendship because it had been already solidly established that y'all like each other as human beings before you became physically intimate.
"Friends" With Benefits
One of the funniest things about the dating scene is that people refuse to acknowledge that none of it is geared towards guys and gals ever becoming friends.
I don't know how it works in the sticks, but in metropolitan areas, you go somewhere, see a chick that turns you on, and see what you can do. Period.
Nobody cares if she snowboards. Nobody cares if she's in the third year of her residency. Nobody cares if her family's originally from Connecticut or California. She's attractive to you or she isn't. You feel like hooking up with her or you don't. The situation works out for you or it doesn't. Wash, Rinse, Repeat.. Same thing tomorrow night.
You don't have dudes sitting on couches at 2am with chicks because they're so glad that they're cultivating a friendship with her. 😀 That's not reality. Dude's trying to get laid. Period.
Similarly, you'd be amazed how quickly some gal's legs spread when they find out (because you lied) that you're rich. In fact, that shouldn't have any bearing on whether she feels like hooking up with you or not, being that money has nothing to do with how someone carries themselves, what type of person they are, who they're being for you.. Isn't that what women are always clamoring about? "I want him to like me for MEEEE! :(".. Well, your gold-digging homegirls are messing it up for the rest of youse by selling out the azz for never-to-be-fulfilled promises of money, shopping, yachts, condos and trips to Paris.
So it's funny to me when a gal tells me she meets a new dude and I'm like "So, what's up with y'all? o_O" and she's like "Oh.. We're just friends"… No. Actually, you're not friends. You'll be finding out how much not-friends you are in a few months. See you when you return. *waves*
It's Complicated
Of course, none of these categories exist at all. They're complicated ways to try to explain simple facts. The titles and circumstances surrounding how you get your pleasure are entirely irrelevant. You're either hooking up, or you're not.
Being friends with someone isn't connected at all to hooking up with that person, but what do you expect women to say?.. That they don't like a guy as a person at all, he's dumb as a box of rocks, he has no earning potential, manners or sense of humor, but she likes how he looks and she always has great orgasms when he has sex with her, so it is what it is?
Good luck with that. 🙂 The deck is stacked against women as far as stigma & criticism, so you need to read between the lines if you're going to understand what's really going on with them as opposed to what they're willing to SAY is going on.
Guys don't have this problem. If we're willing to put our business in the street, there are only two things we're going to say.. "Yeah, I'm hittin' that" or "Nope. I'm not hittin' that". Simple, and to the point.
Nobody cares what the relationship is named, or whether you see her every day, once every week, or once every two months. She's either on the roster or she isn't. You're messing with her or you aren't. You're friends with her or you aren't.
Saying "That's my girlfriend" won't get you any more credit than saying "That's some chick I'm banging". It's the same functionality, but in the girlfriend case, you probably signed on for more responsibilities. Guys aren't going to be low-rated either way, so there's no incentive to apply the term "friend" to every female you know.
Some chicks, you're just working on hooking up with them and you don't think anything more of them than that. Some chicks are actual friends of yours and you'd invite them places and hang out with them and introduce them to people that are important to you in your life because you want THEM to meet HER because she's important to you, too.
Some people like to use the term "It's Complicated" to describe their relationship to someone. Nope. It's not complicated. You're hooking up or you're not… You're friends or you're not… And none of that matters at all, so long as you're enjoying your life.
—

Connect with Bill via Facebook, Twitter, LinkedIn, MySpace, Email Subscription, RSS Feed